In her latest exhibit, "Chronicles on Skin," the Women's Month offering of Galerie Stephanie, veteran artist Julie Lluch melds sculpture and painting as well as social realism and her trademark feminism to weave and interweave the Philippines' history of resistance against oppression, abuse, and violence, colonial or self-inflicted.
Drawing from the spirit of protest art but infusing it with the philosopher's long view of history (Lluch finished philosophy at the old Faculty of Philosophy of Arts and Letters [Philets] of the University of Santo Tomas), Lluch wreathes together history and current events, as well as iconic images from modern art and her own iconography, in order to depict an epic chronicle of brutality that has long bedeviled the Philippines.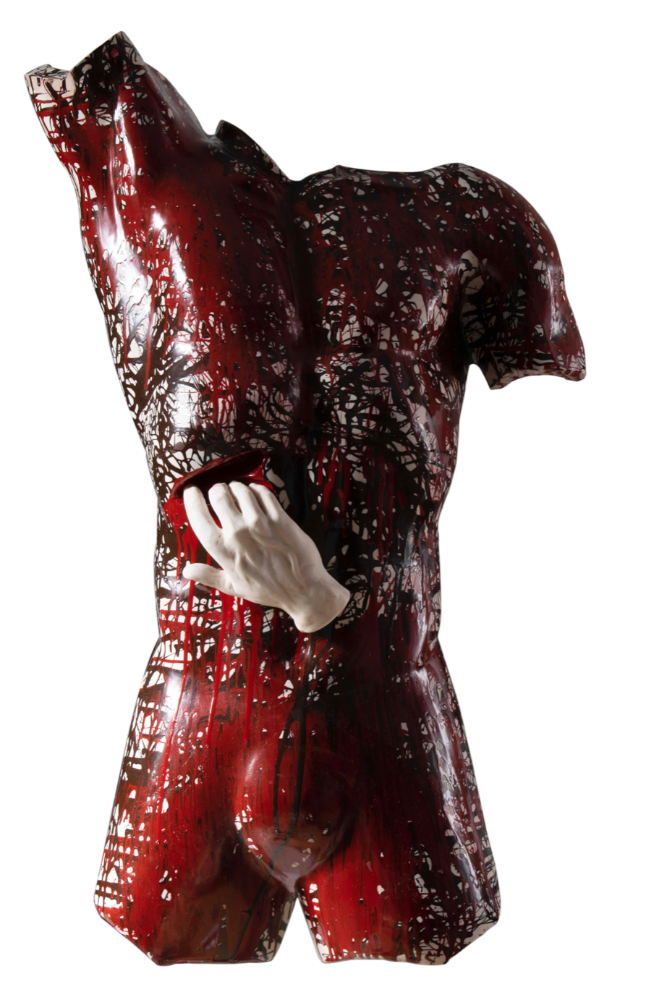 The overriding iconography here is Juan V. Luna's "Spoliarium," with its horrifying image of a fallen gladiator being dragged out of the Roman colosseum, with the writhing sinews of his body fresh from brutalization, seemingly still pulsing with life but already in the throes of death.
During Art Fair Philippines in February 2020, Lluch exhibited a three-dimensional version of Luna's celebrated work as centerpiece of her tableau of more than 20 sculptural pieces in cold cast marble. Mounted also by Galerie Stephanie, the exhibit, "Irresistible Grace: In the Time of Plague," might have referenced to many the looming epidemic, but it really was protesting the extra-judicial killings(EJK) of the Duterte government's so-called war against drugs.
At that time Lluch explained the work: "I have appropriated Luna's concept of state brutality to recreate a scenario that is repeated many thousand times over in the streets and alleys among the poor across the country."
Much of that philosophy governs Lluch's present series of works, in which she paints on the sculptural torsos and arms made from the molds that were used initially in "Irresistible Grace."
The new series is a first for Lluch.
"I have always painted my terra cotta and cast marble works," Lluch said in an interview, "and yes, this is the first time I've seriously incorporated painting on the sculptures. Painting can accommodate more elements, even abstract concepts better than sculpture which is limited in subject matter."
"In these current works, I needed to convey more than a delight in form but narratives and stories related to the war on drugs and EJK," she added.
Other iconic images
Another iconic image woven into this protest pastiche is Georgia O' Keeffe's bull's skull (from the US artist's 1935 work, "Ram's Head White Hollyhock and Little Hills"), both mourning the displacement of the native American Hopis and celebrating their resilience and culture.
Lluch likewise raids her own iconography, specifically her sculptural self-portrait, "Piccaso y Yo," showing the harried and harassed housewife raising her hands and holding her head in frustration, while flanked by Picasso's cat and harlequin that seemingly can't care less.
She likewise adopts searing images from the social realism of the late Pablo "Adi" Baens Santos.
Aside from EJK, the series also tackles revolutionary moments in Philippine history such as two works titled "Resistance 1521," about the death of Magellan in the hands of Lapu-lapu, made during the 500th anniversary of the European arrival in 2021; and "EDSA Chronicles."
"These three works are epic in proportion but make no pretensions of being historical or journalistic in the telling," said Lluch.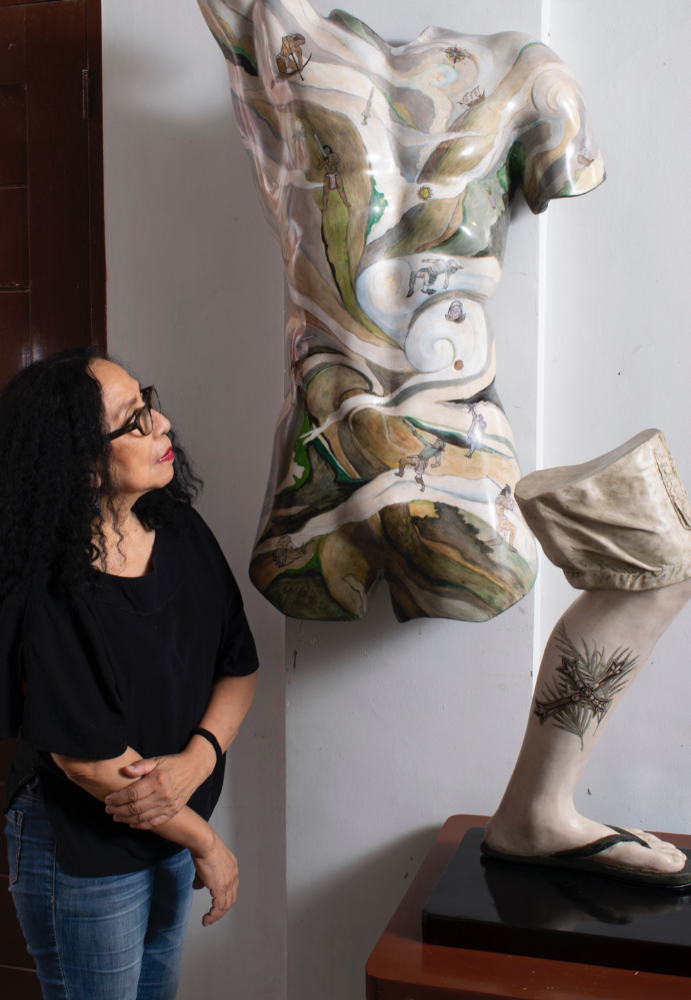 Sculpture versus painting
Lluch admitted she's violating the classical aesthetic concept that the seven classical arts are distinct from each other and should not be combined.
"In my Aesthetics class under Professor Erlinda Rustia in Philets, sculpture and painting cannot meld together as one," she said. "Either you have a sculpture that is painted on one hand, or a painting done on an undulating surface serving as canvas, on the other.
"In contemporary art , however…the artist can do what he wants with absolute freedom. In my case, I guess sculpture wins out, I do not presume to call myself a painter. Some of the paintings here though strongly carry the narrative forward, taking the dominant part of the work."
The blurring of the lines between sculpture and painting has helped Lluch better express herself.
"This show is an expression of my personal anguish over the state of our country today, particularly regarding the crimes against the people," Lluch said. "I didn't have to look far in collecting and selecting images for the paintings. I picked familiar ones close to my heart and memory, threw them into the cauldron for the artistic brew: Luna for the 'Spoliarium,' Georgia for the cattle head skull, Adi Baens Santos for the Nude with paintbrushes and palette, Picasso and my own works."
These iconic images are painted by Lluch on sculptural torsos and arms, male to boot, which may raise the eyebrows of those who expect the artist to be thoroughly "feminist."
"A well-balanced feminist is careful not to fall into narrow legalism and stereotype," Lluch explained. "She wouldn't discriminate between a male or female torso but as an artist choose what best serves her purposes. A female torso would have been fine with me, but my point of reference is the 'Spoliarium,' which is male.
"The question which is more attractive, the male or the female anatomy, is a matter of preference on the part of the artist. Michelangelo obviously preferred the male and made his female figures very muscular."Much later Lluch declared: "I don't agree that the male figure lends itself better to artistic depictions. The Venus de Milo is just as perfect as is the clothed Winged Samothrace."
Feminist aesthetics
Julie Lluch may not be the Philippines' first feminist artist but she's arguably the first to effectively articulate a feminist aesthetic.
Lluch won the CCP (Cultural Center of the Philippines) Thirteen Artists Award in 1990, but the award had been received much earlier by Ofelia Gelvezon Tecqui, who got it during the second edition of the biennial awards, in 1972, along with Lluch's former spouse, Danny Dalena; and by a host of other women such as Impy Pilapil and Judy Freya Sibayan in 1976; Mercy Acosta, Ginny Dandan, Lani Maestro, and Phyllis Zaballero in 1978; Nelfa Querubin in 1980; and Agnes Arellano in 1988.
But ahead of all of them, she had been articulating a feminist philosophy in her art and her discourses.
In an article in the revived Manila Times Sunday Magazine in the aftermath of the Edsa People Power Revolt in 1986, in which a popular uprising deposed a strongman and catapulted a martyr's widow to the presidency, she wrote that feminism, despite the rage and outrage, the din and blare, starts inward, from one's being:
"Feminism is knowing and learning to use one's own eyes, one's own hands, mind, body, and to be in possession of all of one's parts. The objectification of women ceases the moment she begins to act on her own will and judges herself according to her own standards, and certainly not the male's … The feminist revolution begins within the individual, at the center of her being."
The title of her article was "The Making of a Feminist."
Perhaps because of the "masculine" quality of the "Chronicles on Skin" series, Lluch has added as an "adjunct" 18 small works belonging to the "Georgia" series, her tribute to Georgia O'Keeffe.
"These sculptures are overt depictions of the female vulva playfully echoing Georgia O'Keefe's paintings of orchids, lilies and begonias," she said. "They should provide a healthy counterpart to the dominant male presence in the gallery."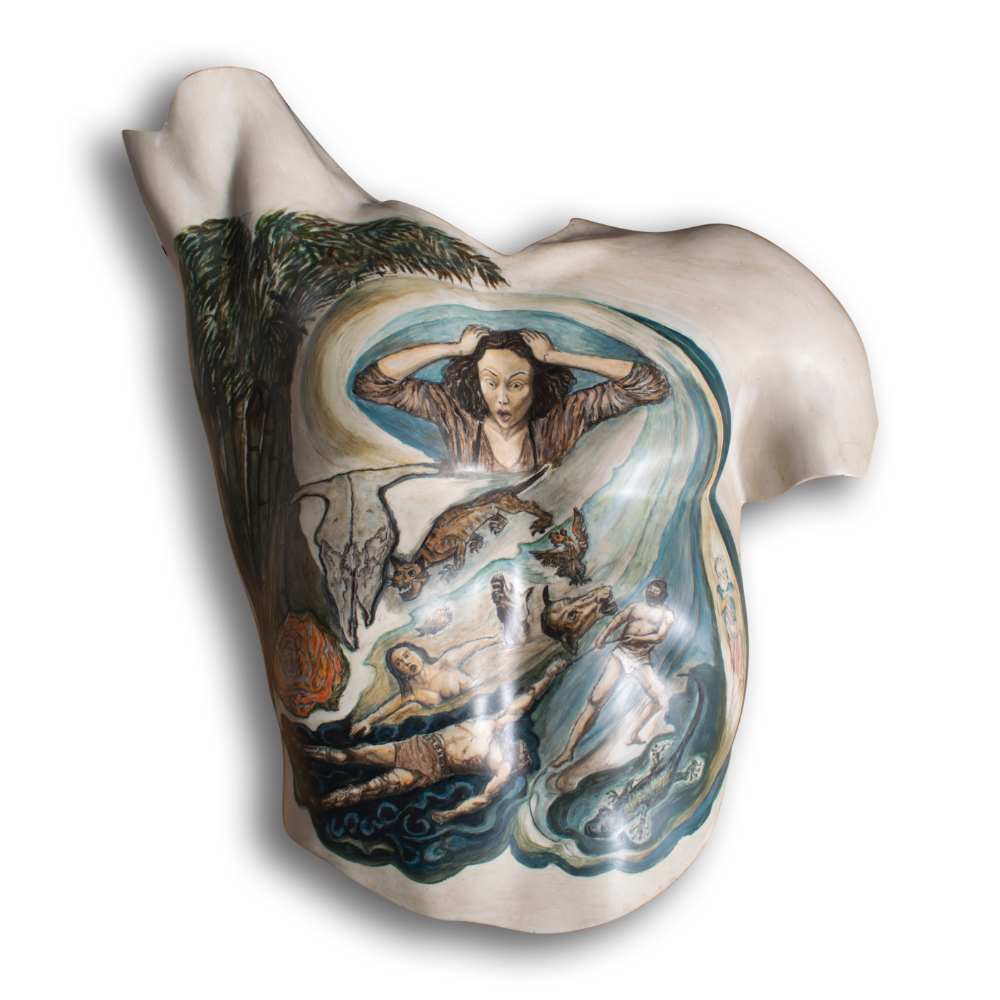 Public works
Metro Manilans are familiar with Lluch's works via her public statues, the most striking of which would be the statue of Manila Mayor Arsenio Lacson sitting on a bench and reading a newspaper, located across Plaza Rajah Soliman and Malate Church. Lacson had been a newspaper man before he entered politics, and Lluch has done the statues of other famous journalists, such as Ninoy Aquino and Max Soliven.
At the Supreme Court in Ermita are the statues of Justices Cayetano Arellano and Jose Abad Santos, also by Lluch.
Of significant women figures, Lluch has done the statues of Gregoria de Jesus at the Pinaglabanan Museum in San Juan City, and of Nazaria Lagos in Dueñas, Iloilo. The latter is a World War II heroine, the "Florence Nightingale of Panay."
A Paulinian, she has done six bronzes of "flying nuns" for the convent of the St. Paul de Chartes sisters in Antipolo and another six figures in bronze depicting their charism and mission for St. Paul's College (now University) in Herran (now Pedro Gil Street) in Manila.
Her more recent commissions are the Jose W. Diokno statue located at the Commission on Human Rights along Commonwealth Ave., and the Carlos Bulosan Monument in Binalonan, Pangasinan.
"I took up the challenge of doing public monuments because it was a privilege to participate in honoring the memory of our great heroes, statesmen and leaders," Lluch said. "The work was tough and physically demanding, but it gave me a deep sense of accomplishment to be able to do a job that is traditionally a man's turf."
Mother and daughters
Her daughters—Sari, Aba, and Kiri Lluch Dalena—have taken after their famous artist-parents. They've become top artists in their own right.
"I believe my daughters who grew up at the height of the Women's Movement during the Cory era have internalized the tenets of feminism and have integrated these into their lifestyle," she said. "So probably I can say it has become a worldview for them. We don't usually check on each other, but surely there are lapses committed."
"The artistic output of Sari, Aba and Kiri, whether film, documentary, painting , sculpture, installation or music always uphold women's rights, women's dignity, even going beyond into national and human rights issues," she added. "Not that feminism has taken a backseat."
Are her new works feminist enough? "My daughters loved the show and there was no question about whether the show was feminist or not feminist enough," said Lluch.
"As an artist I had a 'feminist period' during which time I believe I produced my major oeuvres and the most relevant," she explained. "The works were deliberately feminist. I insisted that feminist art be considered a specific genre, much like its first cousin, Social Realism, is a genre. The works are ideological, political and activist, meaning that the works are meant to effect change, not only in the consciousness of women but in society as a whole."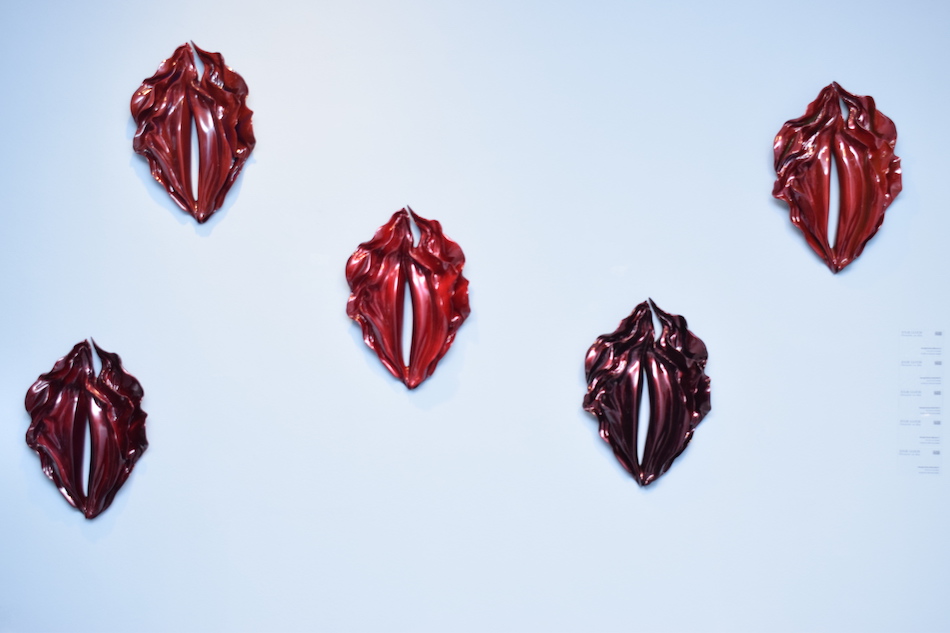 Sensuous but religious
The most sensuous of the sculpture-paintings in the new show is also the most religious.
"Touch Me" shows the shapely male upper body in red, seemingly lacerated and bloodied; a white hand issues from the torso with its forefinger probing the wounds.
"'Touch Me' is different from the rest of the works because it is not painted with acrylic but with enamel in Aba Lluch Dalena"s paint-drip style," Lluch explained. "It is my wont to include a piece with a Christian or religious message, a concession to my faith ministry, if you will. The reference here is the Italian painter Caravaggio's painting ["The Incredulity of Thomas"], of Christ bidding the doubtful Thomas to touch his wound. Thomas does so, sticking his finger deep onto the wound."
"If there is any message or call intended for this show, it is probably through 'Touch Me,'" Lluch declared.
"I enjoin people to come touch and feel the open wounds of our suffering countrymen," said Lluch. "Not a few thousands have been killed, gunned down like dogs in the streets, alleys and gutters by ruthless killers. Shall we do nothing and let the perpetrators get away? Shall we just ignore, turn our gaze away, and forget about it?"
"Chronicles on Skin" is on view until April 3, 2023 at Galerie Stephanie (4F East Wing Edsa and Shaw Blvd., Mandaluyong City).
Photographs courtesy of Galerie Stephanie.