Julie Lluch is a prolific and empathetic visual artist who is deeply connected with the materials she is working with. Known for her large-scale terracotta sculptures, she also moved towards cold-cast marble in the past few years. According to Lluch, she simply ran out of terracotta, her favored material. Yet, as her sculptures reveal, she evoked specific sensibilities at particular moments in her life using distinct media.
There is no denying, terracotta is Lluch's medium of choice. This was reflected in numerous interviews, features, and essays Lluch wrote herself including "Notes on a Potter's Life" (1983). The warmth and sensuous characteristics of terracotta responded to her needs, especially in the early part of her career. Her place within domestic scenes and her struggles are central themes in her early works. One of her memorable works is "A House on Fire" (1991), a hefty sculptural form showing the quiet and idyll home life—bahay kubo(nipa hut), sleeping dog, and domestic scenes. But on the other side of the sculpture, the fire is burning and a woman on the balcony is trapped. It feels as if it is a cry for help, or an expression of frustration while caught in a burning house. Either way, the very nature of being enclosed in a house could mean different things for different people—peaceful domesticity or oppressive prison.
Lluch's early career showed playfulness in her smaller-scale works. Her prickly cactus sculptures from the 1980s undeniably poke at the dominance of patriarchy. More evocative are her heart sculptures, often showing veins, cracks, and imperfections. One example is "Teresa of Avila Heart" (1981), the heart, gently tilting on the side, is broken in the middle with blood flowing down. Across it are scuff marks, as if thrown around carelessly. Saint Teresa of Avila is a saint, a former nun, a writer of religious text, and a reformer. The namesake of the heart pushed for an austere lifestyle and ascetic practice—translating into the bareness of the sculpture, as well as embracing its suffering and imperfections. Lluch's appeal to the feminine is often more deeply felt, compared to the harshness of her phallic sculptures.
Public and private spaces offer distinct qualities to Lluch's works. When asked about her public monuments, Lluch relayed how they provided a more stable income and accessibility to her artworks. Yet her intimate portraits of friends, artists, writers, cultural workers, and everyday people give a better perspective on personalities and temperaments. She captures the mood and psyche of her subject, rather than creating an idealized likeness. Her undated terracotta self-portrait exposes her vulnerability. Instead of a polished and glamorous presentation, she opted for deadened eyes and a deeply creased face. Contrary to her self-representation, meeting Lluch in person unveils her beauty as a woman, wearing her age and experience with grace. Her self-portrait, though, is self-deprecating as it evokes the struggle of every woman in a patriarchal society and capitalistic society.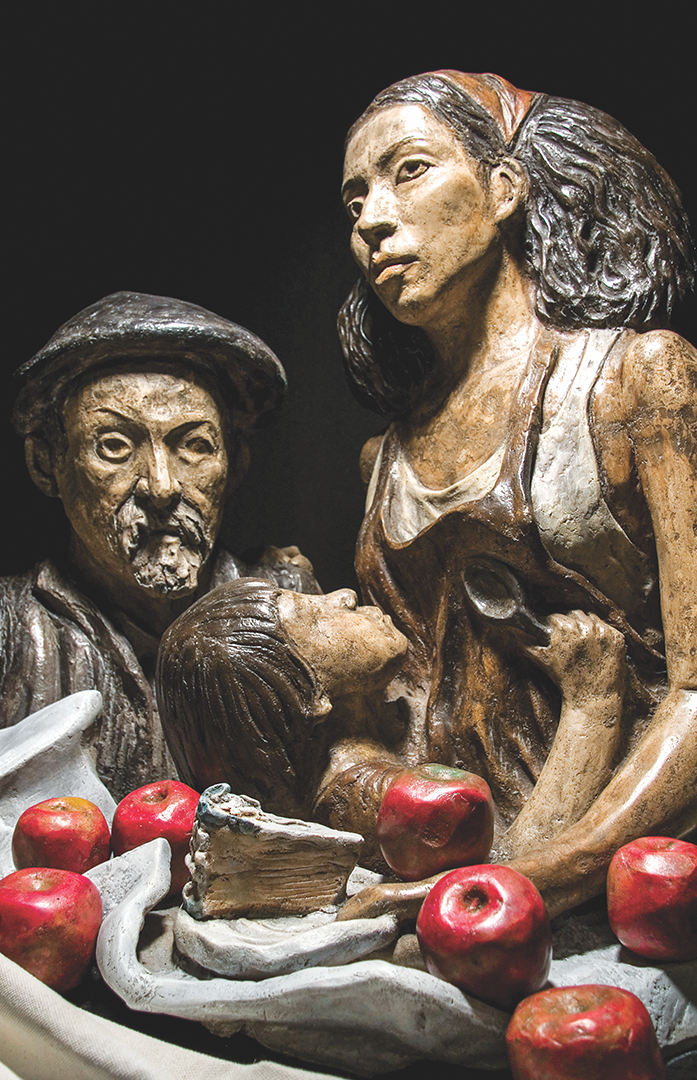 Lluch decided to be a feminist in the 1970s and created artworks that responded to and strengthened her perspective. Her essay, "The Making of a Feminist" (1986) fleshes out the story, starting with a conversation with a friend, and finally taking steps to solidify her place in the movement. Her works in the 1980s often reinterpreted historical Western works through her personal and domestic struggles. "Still Life with Cezanne's Apples on Kiri's 6th Birthday" (1981) is a multi-piece sculptural work that uses terracotta sculptures of Cezanne's apples, as well as Lluch's exhausted self-portrait and a representation of her youngest daughter's Kiri grabbing her apron and vying for her attention. Also included is a rough portrait of Cezanne, which may also imply the presence of her then-husband, social realist Danilo Dalena. The frustrated and seemingly unsatisfactory domestic scene representing Dalena and Lluch was also presented in "Philippine Gothic" (1984), a reinterpretation of Grant Wood's "American Gothic" (1930). Where "American Gothic" (1930) is supposedly a hopeful imagery of a father and daughter during the Great Depression, "Philippine Gothic" (1984), with Dalena's furrowed eyebrows, vexed expression, and hands on the hips, beside Lluch's tilted head, morose expression, and arms across the body, with a dog scratching itself in front, gives a feeling of being trapped in a disappointing situation.
Expressing frustrations and misgivings on domestic situations and private lives was taboo in Philippine culture when Lluch created her early terracotta works. To a certain extent, it still is. Women, in unsatisfactory and even dangerous situations, find it difficult to talk about their experiences and to ask for the help they need. They suffer most in the face of social judgments and isolation. Lluch's artworks, delving into the personal and its implications about a wider socio-political situation and patriarchal realities, attempt to give voice to censored thoughts.
Supporting Lluch's confrontational artworks are her roles in early feminist organizations—as a member of Katipunan ng Kababaihan para sa Kalayaan (KALAYAAN) in 1983 and as a founding member of KASIBULAN in 1990. The groups respond to the need for support among women, sharing stories and struggles, as well as extending help as necessary. The warmth and sensuousness of Lluch's terracotta sculpture give form to situations not easily represented in Philippine culture. Though concepts of feminism continue to face challenges, to a point where the need for feminism is currently questioned, the need to support fellow women remains. KASIBULAN has seen a resurgence in the past few years, continuing as a venue for women's practice in the arts.
Taking decisive steps is definitive of Lluch's artistic practice. Her recent exhibit at Galerie Stephanie, Chronicles on Skin (2023), openly shows her decision to be an activist. Along with her daughter Kiri Dalena, she is part of RESpond and Break the Silence Against the Killings (RESBAK). The collective addresses the violence and deaths resulting from former President Rodrigo Duterte's drug war. Lluch launched the exhibit in 2023, a year after the end of Duterte's presidential term, as a documentation and call to action, refusing to forget the violent period and continuing to call for justice.
When asked about the distinct appearance of her pieces in Chronicles on Skin (2023), Lluch responded that they look different because they are different—it was a call for accountability for the deaths and damage suffered by ordinary Filipinos. In contrast to her terracotta works, she painted on the cold-cast marble torsos, adding figures and words to encourage contemplation on the violent histories of the country, as well as the lives lost during the drug war. Beyond the deaths are loved ones, mostly women and orphaned children, suffering not only the brutality of the attacks, but also the loss of support and stability in their families.
Cold-cast marble was seen in several of Lluch's works before—including the exhibitions In Fullness of Time (2016) and The New Spoliarium (2020). Though she openly favors terracotta, her personal narrative, as well as her engagement with religious and spiritual ideals were reflected in In Fullness of Time (2016). Her three daughters, Sari, Aba, and Kiri, were represented in earlier terracotta works and are now featured as grown-ups, facing similar representations of domesticity, layered with Lluch's growing spiritual exploration, in this case, aligning human time with god's time. In the sculptures, they live ordinary lives – reading books, lying down on sofas, playing the ukulele, and even looking at mobile phones – situating the tableau in the present. Around them are smaller sculptures of fire, seemingly unnoticed by the women. Though the medium is different from the warmth of terracotta, the cold-cast marble adds the inescapable chill of living in the contemporary present.
Cold-cast marble also proves to be an effective medium in her social commentary, solidified in The New Spoliarium (2020). Taking off from Juan Luna's Spoliarium, which expanded the notions of Filipino art within European ideals, Lluch reimagined the tableau by examining colonial history and layering it within the violent present. The image of a wounded person inhumanely dragged around by state forces resonates deeply, as Filipinos live with the injustice of every day and the extraordinary brutality of continuing state violence. In confronting cyclical narratives of struggle, Lluch's recreation makes the image relatable, inviting the viewers to re-examine the current socio-political situation in the country.
Lluch's decision to be a feminist artist helped make a distinct impression on Philippine art history. She showed what is often kept silent in society, giving courage to voice out the discomfort and struggle in women's lives. Though influenced by Western art sensibilities, she forged a path of localizing the imagery, making her reinterpretations relatable to her audience. Her more recent works do not leave feminism, but rather expand to activism, engaging with harsh socio-political situations which would've been easier to ignore. Lluch's critical and decisive steps solidify her role in Philippine art—continuing the necessary struggle of keeping difficult narratives alive, resisting the demands of patriarchy, and demanding justice in an unjust society.